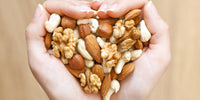 Handful of Nuts Everyday!
Tree nuts (includes but are not limited to, almonds, brazil nuts, cashews, chestnuts, filberts/hazelnuts, macadamia nuts, pecans, pistachios, pine nuts and walnuts) are packed with more health benefit than their size might show. You can't really go wrong with a handful of nuts everyday as a heart-healthy, cholesterol-reducing superfood, as long as you pay attention to quality and quantity. 

Simply Nuts is a wholesale supplier and distributor of high quality, premium dried nuts (conventional/organic/raw) based in Toronto, Ontario. We service the needs of consumers, baking industries and food services throughout Canada at wholesale price.